Saturday, 27 July 2013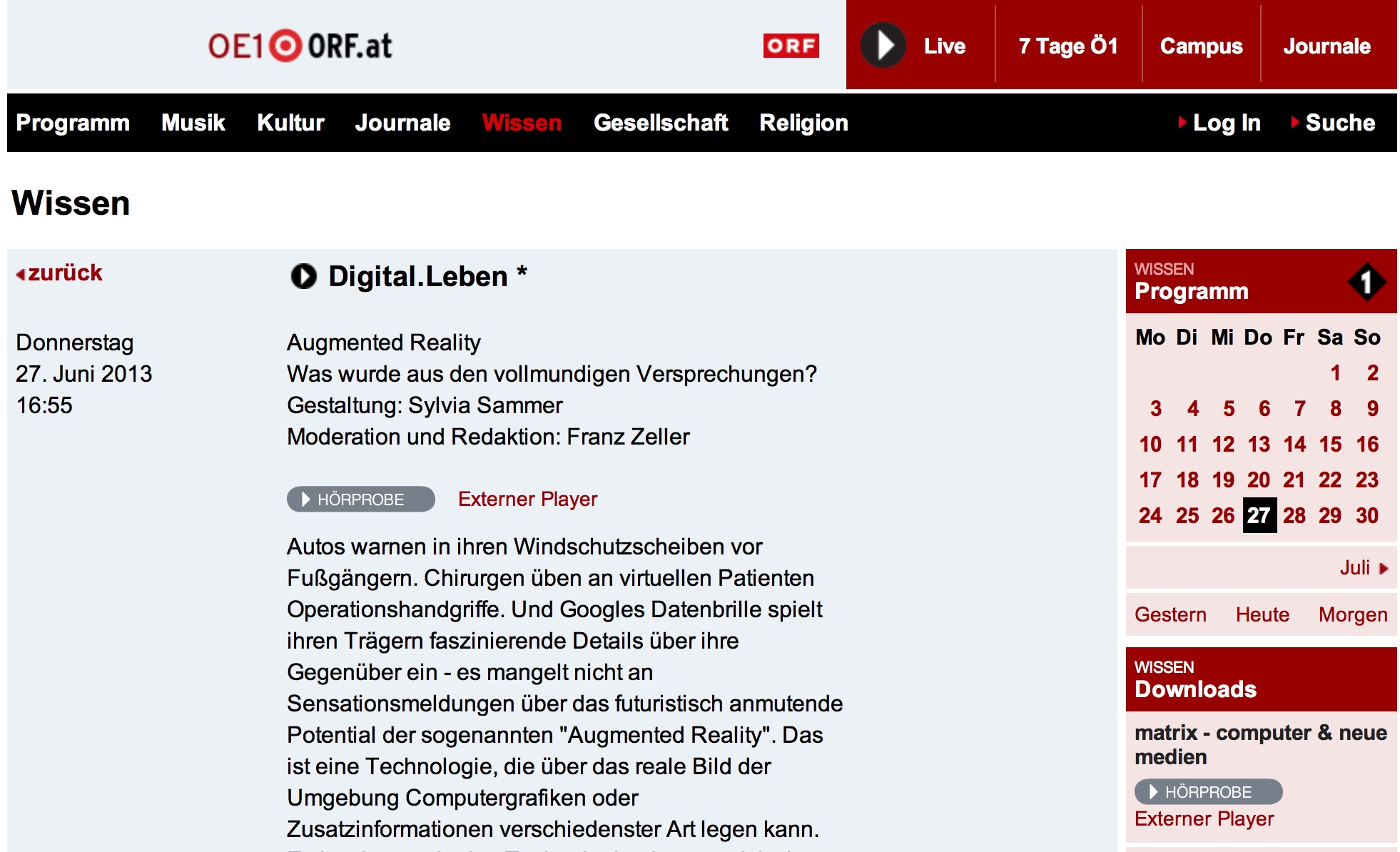 Dr. Sandor was interviewed by the biggest Austrian radio station ORF.

@ Channel 10
Thursday, 20 June 2013


Scope is a science show for children which explains the science behind everyday concept, and explores new technology.

You can watch our segment on our YouTube Channel.
unkown Tuesday, 22 January 2013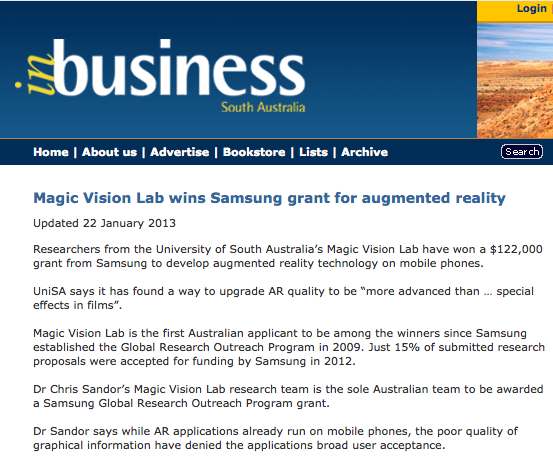 Business Insider South Australia reports on our success winning a grant from the Samsung Global Research Outreach program. Read the full story here.
Will Venn Tuesday, 22 January 2013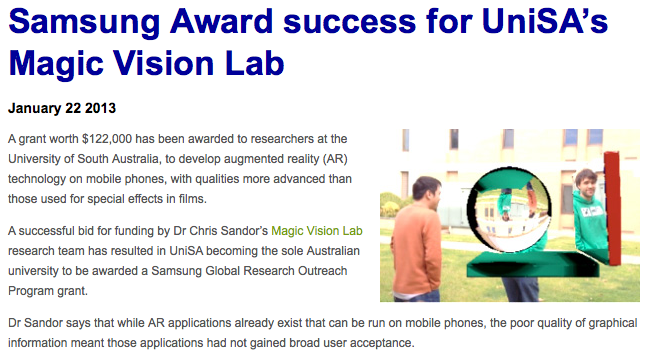 UniSA press release covers our success winning a grant from the Samsung Global Research Outreach program. Read the full story here.
Prof. Steve Feiner Monday, 13 August 2012

In the Guest Editor's introduction to the current issue of IEEE Computing Now, Professor Steve Feiner (Columbia University, New York) looks into the future of Augmented Reality, refering to our research. Read the full story here.
Monday, 30 July 2012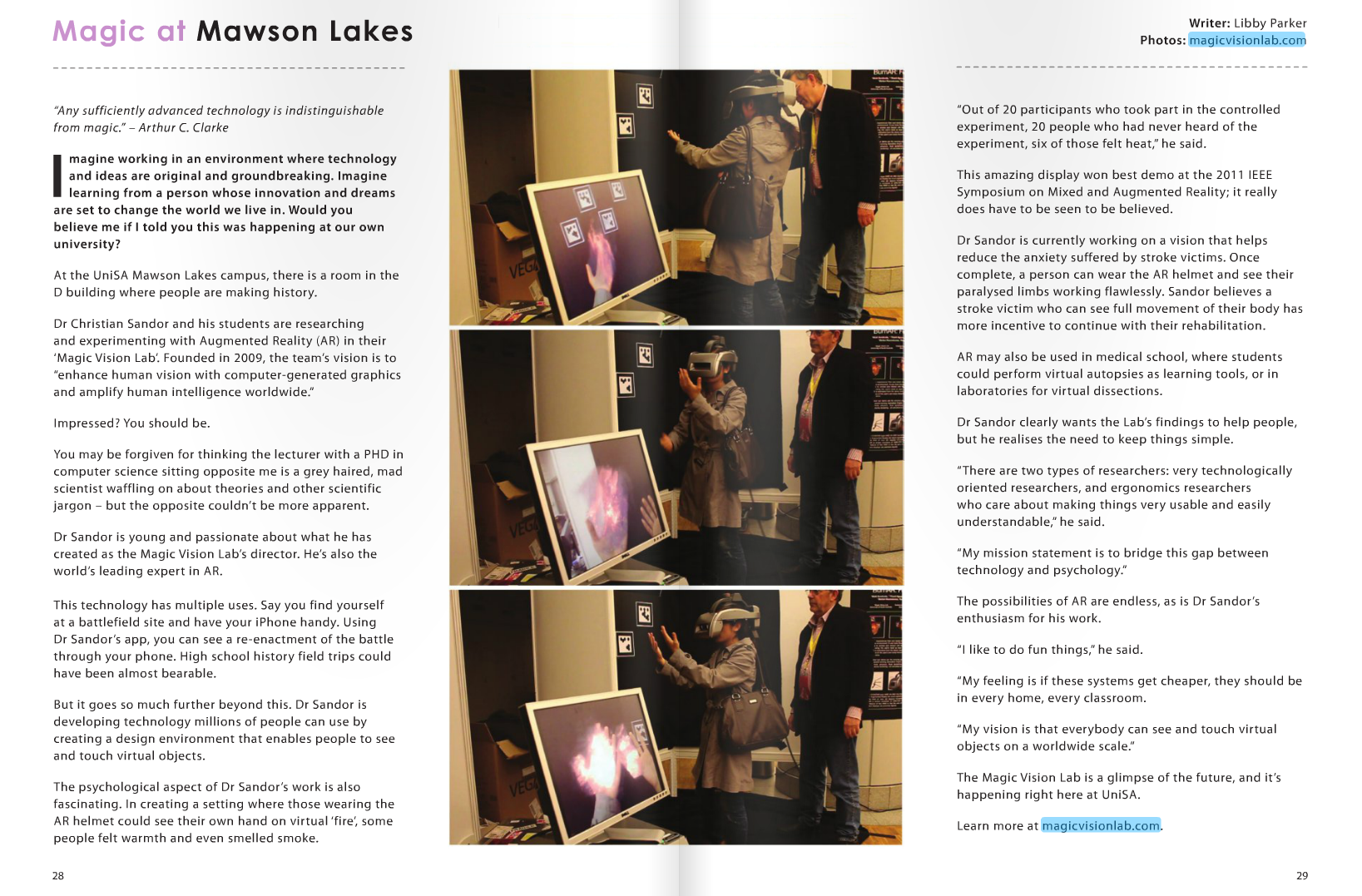 A short article with the headline "Magic at Mawson Lakes" has been published in the UniLIFE Magazine Issue 4 / 2012.
You can read the issue here.
Thursday, 26 January 2012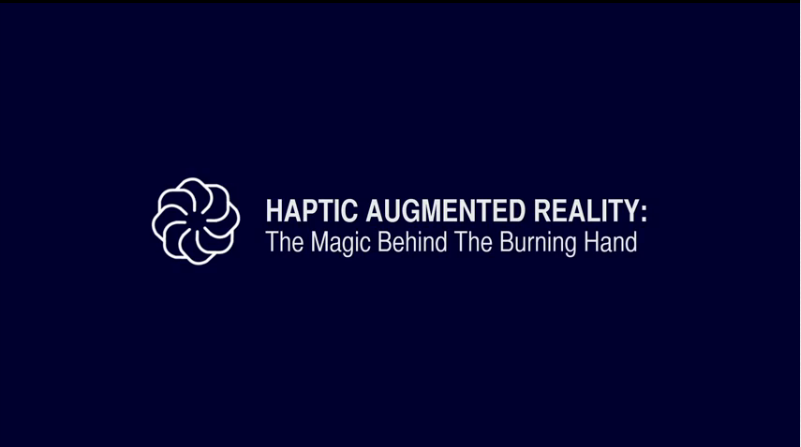 Our collaborators at JDR Screen have created a short documentary about our research.
You can see the documentary on our YouTube Channel.
Helen Papagiannis Monday, 05 September 2011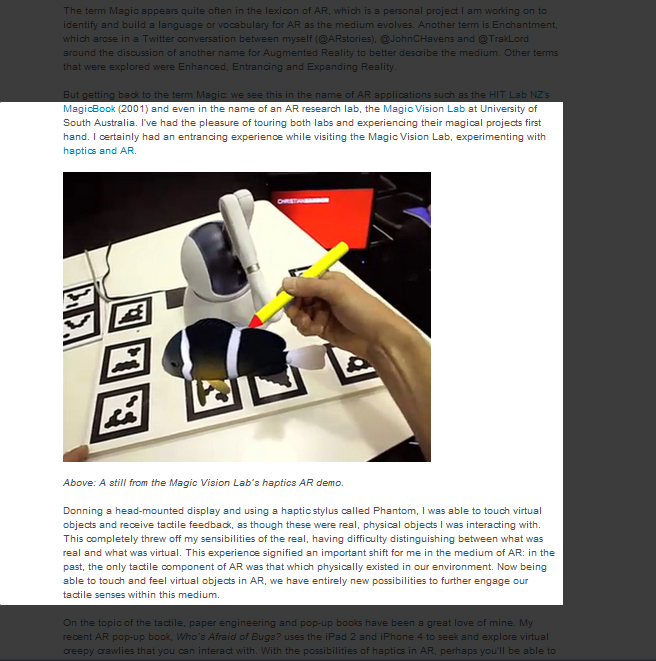 Helen Papagiannis shares her experience about Magic Vision Lab. Read the full story here.
Dan Sung @ Pocket-Lint
Wednesday, 02 March 2011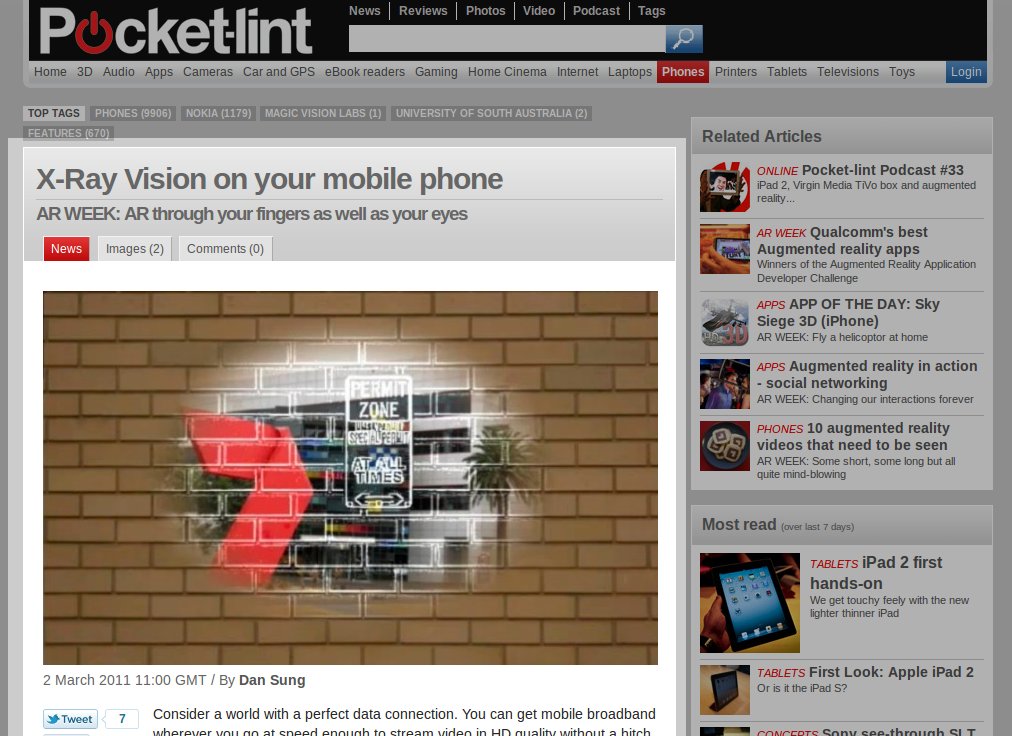 Consider a world with a perfect data connection. You can get mobile broadband wherever you go at speed enough to stream video in HD quality without a hitch. Now throw in flawlessly designed hardware, seamlessly integrated into your every-day clothing and your pocket devices. Sounds good, doesn't it?
@ NHK Gatchan (BS1 6:00pm to 6:20pm)
Friday, 25 February 2011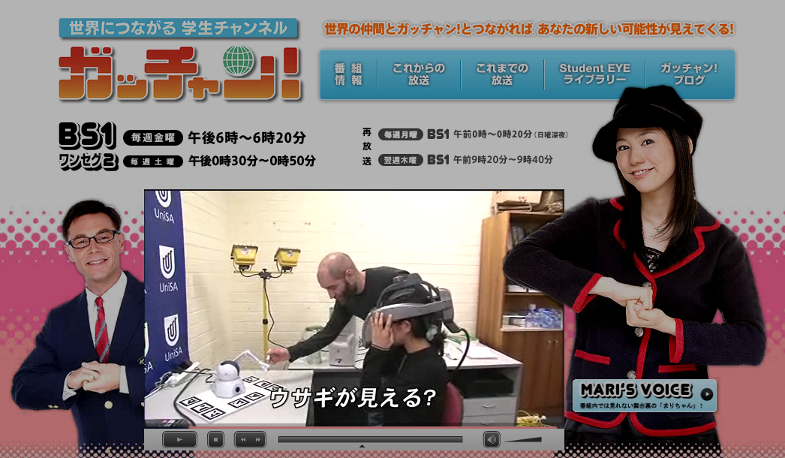 [See it on our YouTube Channel]

"World Lab from the University of South Australia

In the lab of Dr. Christian Sandor the latest AR research is being done. AR or "Augmented Reality" that, in addition to simple information overlays available to current computer systems, is creating a new visual technology." (Google Translate)

[Transcript Excerpt] [Cached] [Cached Translation]
Kristin Alford Wednesday, 15 December 2010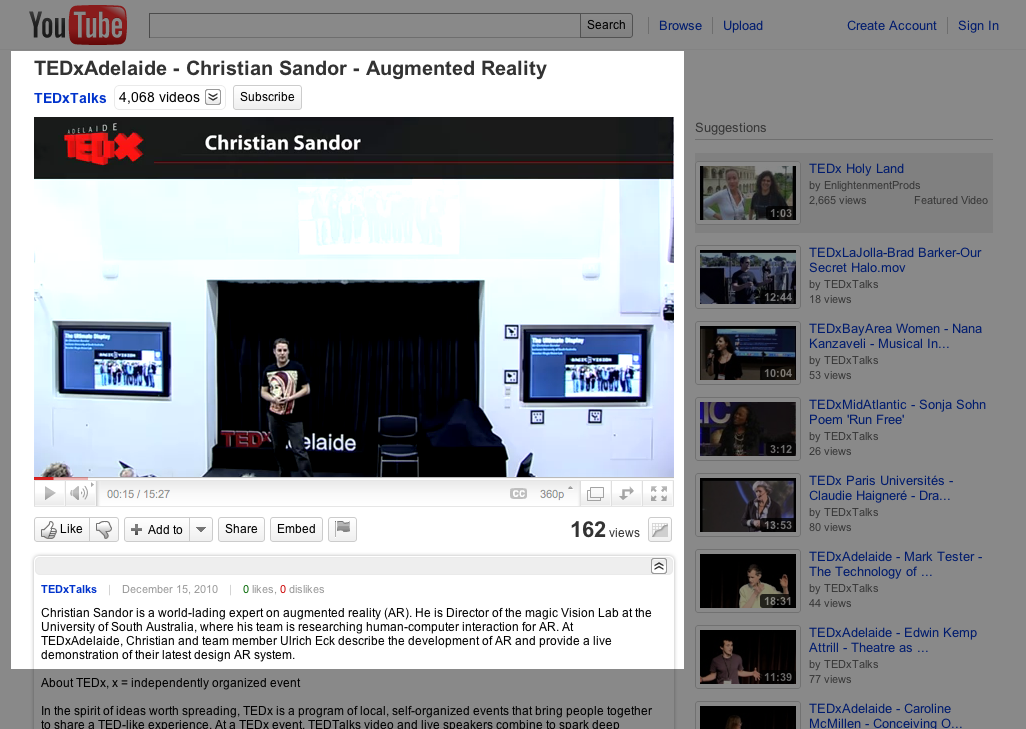 Dr. Sandor's talk at TEDxAdelaide is online on youtube now.

@ Aboriginal Summer School for Excellence in Technology and Science (ASSETS)
Tuesday, 14 December 2010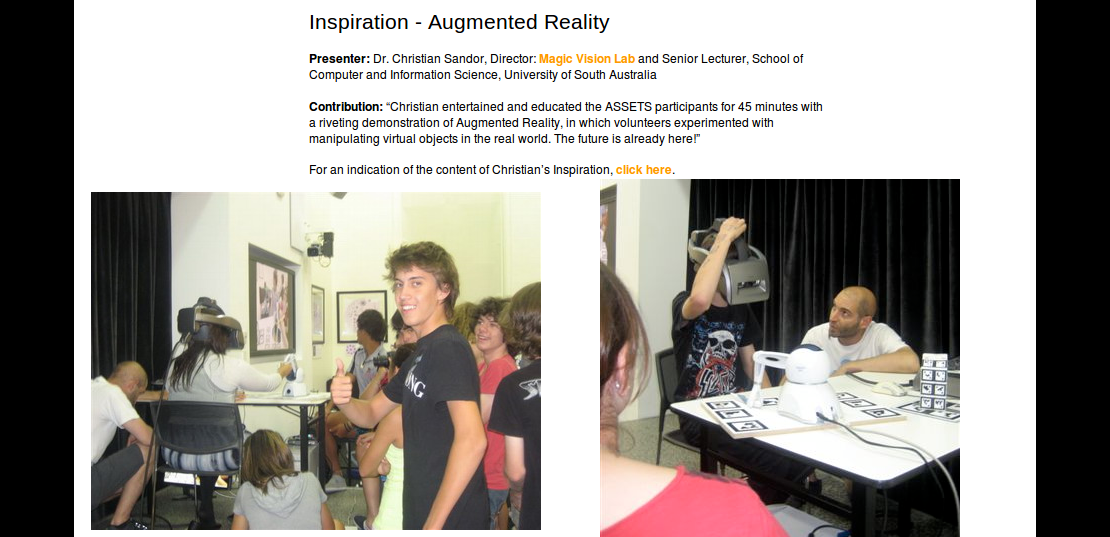 Christian entertained and educated the ASSETS participants for 45 minutes with a riveting demonstration of Augmented Reality, in which volunteers experimented with manipulating virtual objects in the real world. The future is already here!
Kristin Alford Friday, 24 September 2010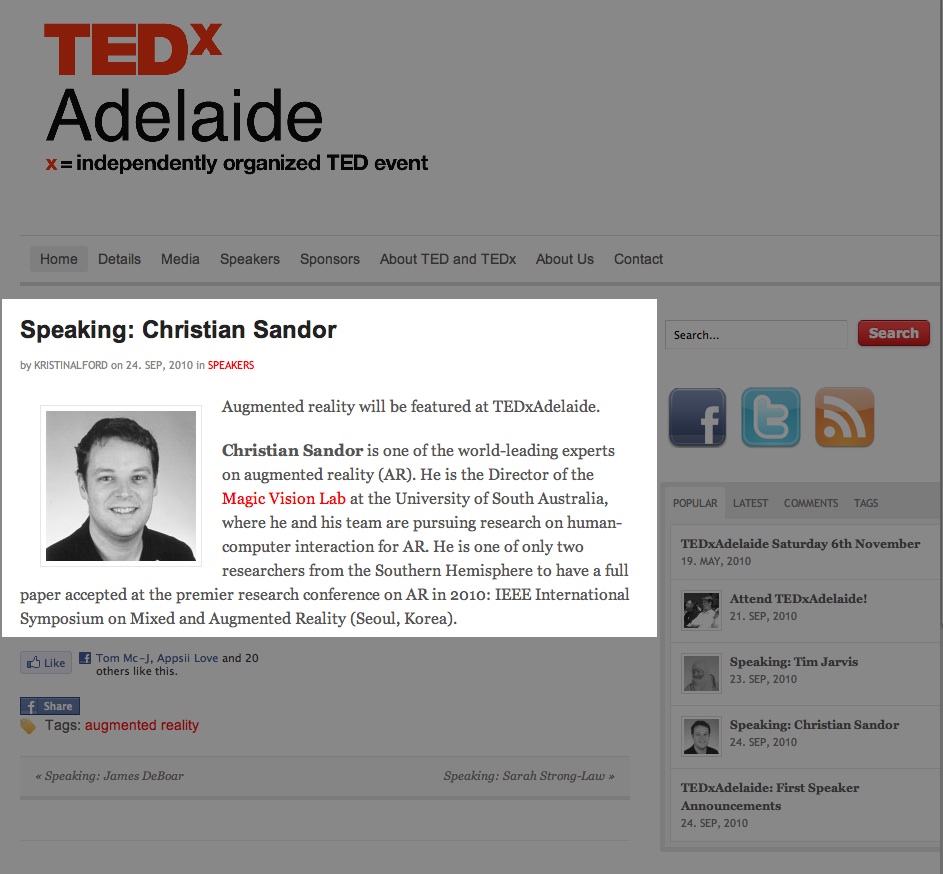 Augmented Reality and the Magic Vision Lab will be featured at TEDxAdelaide.
Thomas K Carpenter Friday, 10 September 2010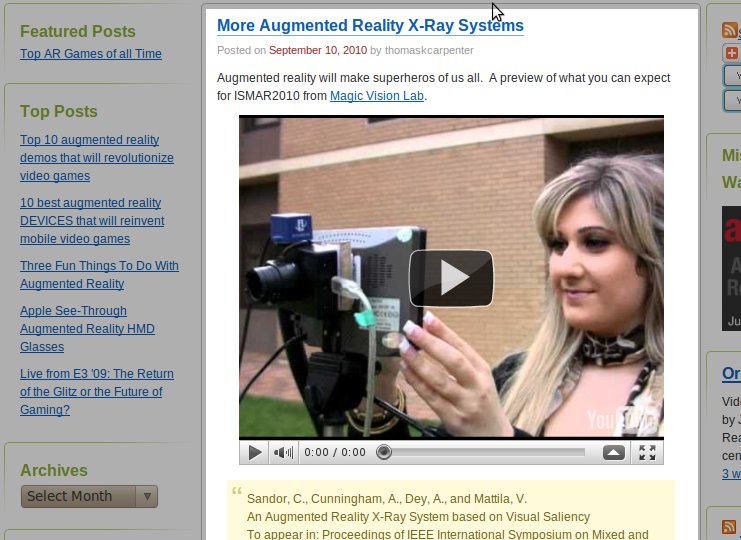 Augmented reality will make superheros of us all. A preview of what you can expect for ISMAR2010 from Magic Vision Lab.
@ Discovery, Russia
Thursday, 01 April 2010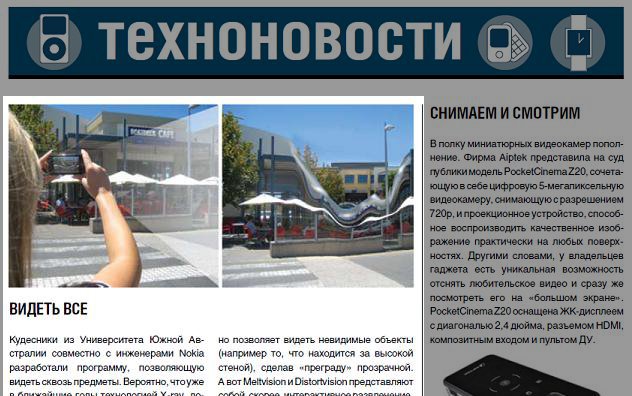 "Magicians from the University of South Australia in conjunction with engineers Nokia developed a program that allows see through objects. Perhaps that is in the coming years technology X-ray, available in three versions - Vision, Meltvision and Distortvision, will be equipped with mobile devices from the Finnish Electronic giant. Mode X-ray Vision directly" (Google Translate)

Liz Tay @ it news
Friday, 12 March 2010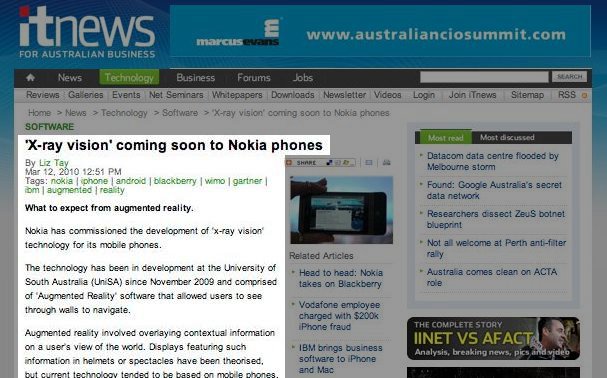 What to expect from augmented reality. Nokia has commissioned the development opf 'x-ray vision' technology for its mobile phones. The technology has been in development at the University of South Australia (UniSA) since November 2009 and comprised of 'Augmented Reality' software that allowed users to see through walls to navigate...
Carole Whitelock @ ABC Radio
Wednesday, 10 March 2010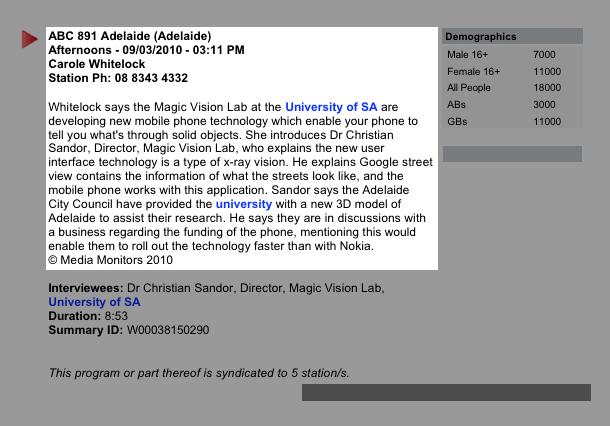 Nicky Phillips @ The Age
Wednesday, 10 March 2010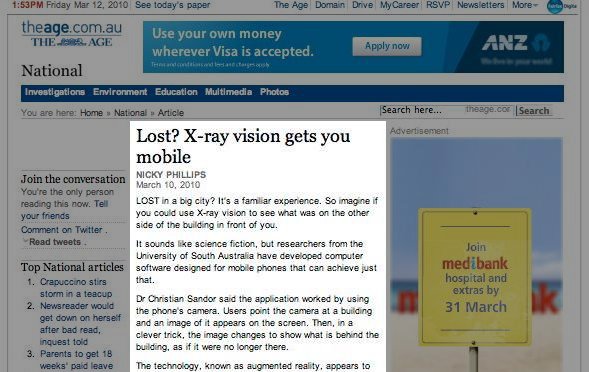 LOST in a big city? It's a familiar experience. So imagine if you could use X-ray vision to see what was on the other side of the building in front of you. It sounds like science fiction, but researchers from the University of South Australia have developed computer software designed for mobile phones that can achieve just that...
Debbie Turner @ Only Kent
Tuesday, 09 March 2010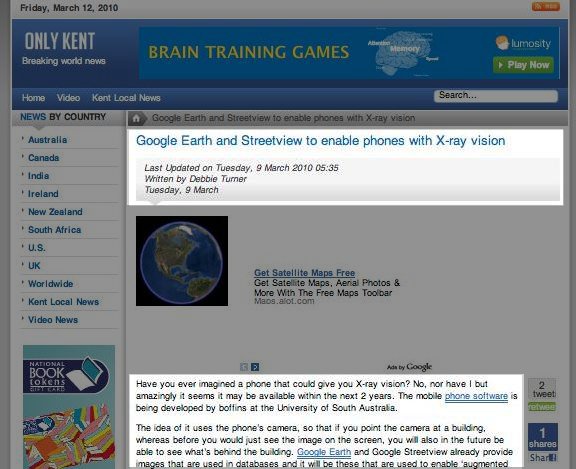 Have you ever imagined a phone that could give you X-ray vision? No, nor have I but amazingly it seems it may be available within the next 2 years. The mobile phone software is being developed by boffins at the University of South Australia...
Heather Leggett @ UniSA
Wednesday, 03 March 2010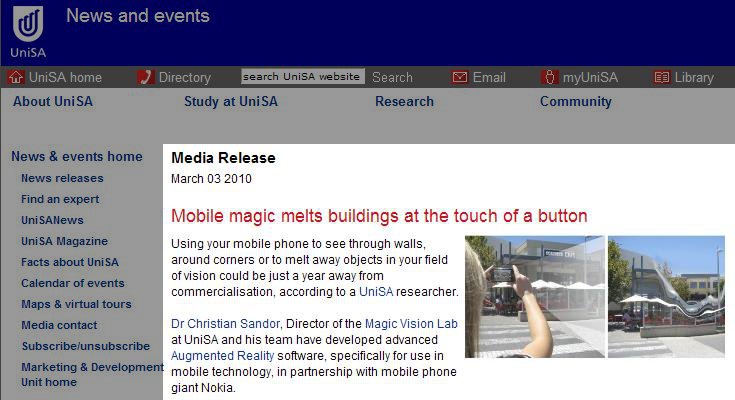 Mobile magic melts buildings at the touch of a button Using your mobile phone to see through walls, around corners or to melt away objects in your field of vision could be just a year away from commercialisation, according to a UniSA researcher.

Dr Christian Sandor, Director of the Magic Vision Lab at UniSA and his team have developed advanced Augmented Reality software, specifically for use in mobile technology, in partnership with mobile phone giant Nokia...

Read the full Media Release

Ori Inbar @ Games Alfresco
Friday, 29 January 2010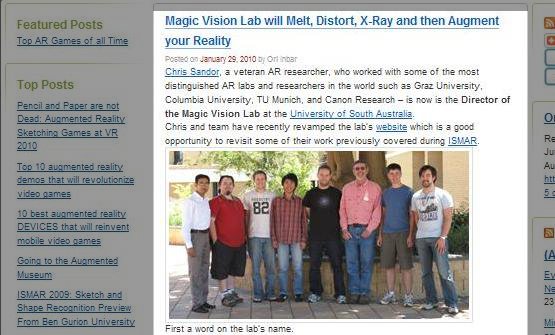 Chris Sandor, a veteran AR researcher, who worked with some of the most distinguished AR labs and researchers in the world such as Graz University, Columbia University, TU Munich, and Canon Research - is now is the Director of the Magic Vision Lab at the University of South Australia...
Geva Kra-Oz @ Calcalist
Thursday, 07 January 2010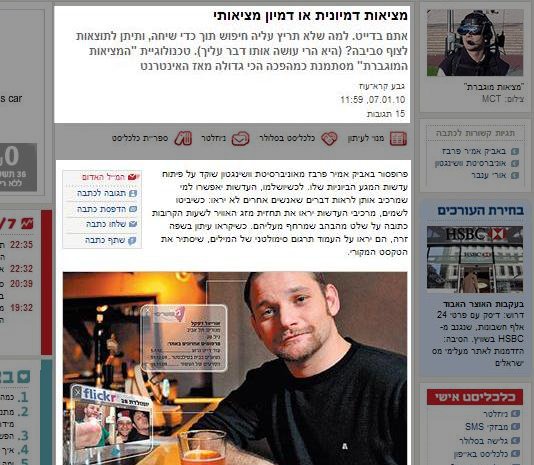 "Professor Amir Pervez Retort Washington University working on developing his bionic contact lenses. Llachshioslmo, lenses will allow those wearing them to see things that other people will not see: Csibito sky, lens elements to see the weather forecast hours written on a flashing sign that hovers over them. When he read a newspaper in a foreign language, they will see on page Simultaneous translation of words, hide the original text..." (Google Translate)
Ori Inbar @ Games Alfresco
Wednesday, 02 September 2009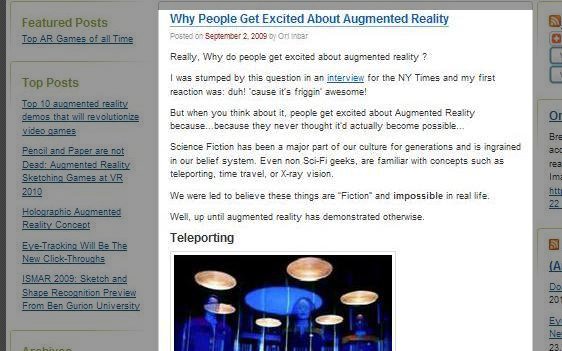 Really, Why do people get excited about augmented reality?

I was stumped by this question in an interview for the NY Times and my first reaction was: duh! 'cause it's friggin' awesome!

But when you think about it, people get excited about Augmented Reality because... because they never thought it'd actually become possible...
Peter Caldicott @ Seven News
Thursday, 02 July 2009


Ori Inbar @ Games Alfresco
Saturday, 16 May 2009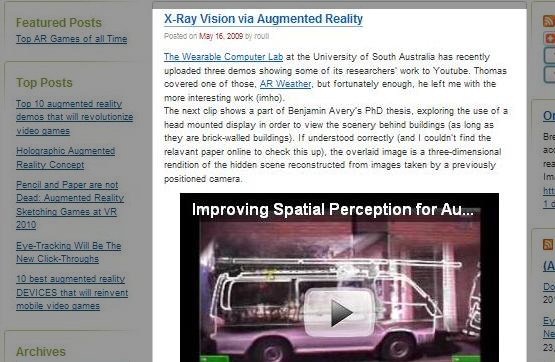 The Wearable Computer Lab at the University of South Australia has recently uploaded three demos showing some of its researchers' work to Youtube. Thomas covered one of those, AR Weather, but fortunately enough, he left me with the more interesting work (imho).