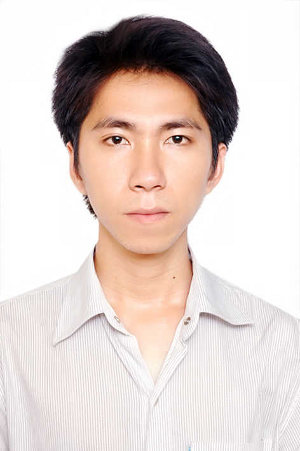 Biography
This page will be no longer updated. Please visit http://au.linkedin.com/pub/thanh-nguyen/30/b35/121 for updated information.

Thanh has finished his Master degree. His thesis was about modularizing PTAMM (an advanced tracking system derived from PTAM- Parallel Tracking And Mapping) for seamless integration. He desires to dive in Machine Learning problems. Currently, his focusing researches include robust features(scale invariant, illumination invariant, etc) in computer vision, and semi-supervised learning with constraint driving.
Publications
Copyright Disclaimer: This material is presented to ensure timely dissemination of scholarly and technical work. Copyright and all rights therein are retained by authors or by other copyright holders. All persons copying this information are expected to adhere to the terms and constraints invoked by each authors copyright. In most cases, these works may not be reposted without the explicit permission of the copyright holder.
The colors next to the publications denote the lab in which they were created:
| | |
| --- | --- |
| | Magic Vision Lab. University of South Australia. Adelaide, Australia. |
| | Wearable Computer Laboratory. University of South Australia. Adelaide, Australia. |
| | Canon's Leading-Edge Technology Research Headquarters. Human Machine Perception Laboratory. Tokyo, Japan. |
| | Fachgebiet Augmented Reality. Munich University of Technology. Munich, Germany. |
| | Fachgebiet Computer Aided Medical Procedures. Munich University of Technology. Munich, Germany. |
2013
Weir, P., Sandor, C., Swoboda, M., Nguyen, T., Eck, U., Reitmayr, G., and Dey, A.
BurnAR: Involuntary Heat Sensations in Augmented Reality
In Proceedings of the IEEE Virtual Reality Conference, pages 43--46, Orlando, FL, USA, March, 2013.
PDF | video | bib

2012
Weir, P., Sandor, C., Swoboda, M., Nguyen, T., Eck, U., Reitmayr, G., and Dey, A.
BurnAR: Feel the Heat
Poster in Proceedings of IEEE International Symposium on Mixed and Augmented Reality, pages 331--332, Atlanta, USA, November, 2012.
PDF | poster | video | bib

2010
Nguyen, T., Sandor, C., and Park, J.
PTAMM-Plus: Refactoring and Extending PTAMM
In Proceedings of International Conference on Artificial Reality and Telexistence, pages 84--88, Adelaide, SA, Australia, December, 2010.
PDF | video | bib
2011
Swoboda, M., Nguyen, T., Eck, U., Reitmayr, G., Hauswiesner, S., Ranftl, R., and Sandor, C.
BurnAR: Feel the Heat
Demo at IEEE International Symposium on Mixed and Augmented Reality, Basel, Switzerland, October., 2011. Best Demo Award
PDF | bib