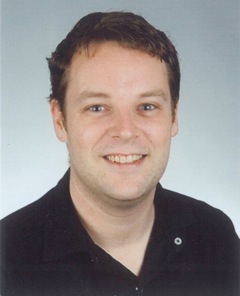 Biography
Note: As of 30 January 2014, this webpage will not be updated anymore. I have accepted a position as Associate Professor in the Interactive Media Design Lab at Nara Institute of Science and Technology in Japan. I also have a homepage there..
Dr. Christian Sandor is a Senior Lecturer at the University of South Australia, where he directs the Magic Vision Lab, and a Visiting Associate Professor at one of Japan's most prestigious universities: Tohoku University. Since the year 2000, his foremost research interest is Augmented Reality, as he believes that it will have a profound impact on the future of mankind. His further research interests include: human-computer interaction, visualization, computer graphics, computer vision, haptics, and software engineering.
Together with his students, he has won awards at the premier conference in his field, IEEE International Symposium on Mixed and Augmented Reality (ISMAR): best demo (2011) and best poster honourable mention (2012, 2013). He has presented several keynotes and acquired funding close to 1.5 million dollars; most recently, Magic Vision Lab was the first Australian lab to be awarded in Samsung's Global Research Outreach Program.
He previously worked at Canon's Leading-Edge Technology Research Headquarters in Tokyo, Japan. There, he created a design environment that enables users to see and touch virtual objects and invented a 3D cursor for mobile Augmented Reality. Before joining Canon, he obtained a doctorate in computer science from the Munich University of Technology, Germany. Under the supervision of Prof. Gudrun Klinker and Prof. Steven Feiner, he developed a software framework and authoring tools for distributed Augmented Reality user interfaces. Using these tools, he created a variety of applications, ranging from art installations to industrial applications. In a collaboration with BMW, he worked in an interdisciplinary team to investigate Augmented Reality guidance systems for car drivers.
Vital statistics
Awards
Keynotes
Selected conference service
Misc
Projects
Publications
Copyright Disclaimer: This material is presented to ensure timely dissemination of scholarly and technical work. Copyright and all rights therein are retained by authors or by other copyright holders. All persons copying this information are expected to adhere to the terms and constraints invoked by each authors copyright. In most cases, these works may not be reposted without the explicit permission of the copyright holder.
The colors next to the publications denote the lab in which they were created:
| | |
| --- | --- |
| | Magic Vision Lab. University of South Australia. Adelaide, Australia. |
| | Wearable Computer Laboratory. University of South Australia. Adelaide, Australia. |
| | Canon's Leading-Edge Technology Research Headquarters. Human Machine Perception Laboratory. Tokyo, Japan. |
| | Fachgebiet Augmented Reality. Munich University of Technology. Munich, Germany. |
| | Fachgebiet Computer Aided Medical Procedures. Munich University of Technology. Munich, Germany. |
2014
Csongei, M., Hoang, L., Sandor, C., and Lee, Y.
Global Illumination for Augmented Reality on Mobile Phones
Accepted as Poster in Proceedings of the IEEE Virtual Reality Conference, pages 1--2, Minneapolis, MN, USA, March, 2014.
PDF | video | bib

2013
Meng, M., Fallavollita, P., Blum, T., Eck, U., Sandor, C., Weidert, S., Waschke, J., and Navab, N.
Kinect for Interactive AR Anatomy Learning
Poster in Proceedings of the IEEE International Symposium on Mixed and Augmented Reality, pages 277-278, Adelaide, SA, Australia, October, 2013. Best Poster Honourable Mention
poster | bib

Kuparinen, L., Swan, E., Rapson, S., and Sandor, C.
Depth Perception in Tablet-Based Augmented Reality at Medium- and Far-Field Distances
Poster in Proceedings of the ACM Symposium on Applied Perception, page 121, Dublin, Ireland, August, 2013.
PDF | bib

Eck, U., and Sandor, C.
HARP: A Framework for Visuo-Haptic Augmented Reality
Poster in Proceedings of the IEEE Virtual Reality Conference, pages 145--146, Orlando, FL, USA, March, 2013.
PDF | poster | bib

Weir, P., Sandor, C., Swoboda, M., Nguyen, T., Eck, U., Reitmayr, G., and Dey, A.
BurnAR: Involuntary Heat Sensations in Augmented Reality
In Proceedings of the IEEE Virtual Reality Conference, pages 43--46, Orlando, FL, USA, March, 2013.
PDF | video | bib

2012
Csongei, M., Hoang, L., Eck, U., and Sandor, C.
ClonAR: Rapid Redesign of Real-World Objects
Poster in Proceedings of IEEE International Symposium on Mixed and Augmented Reality, pages 277--278, Atlanta, USA, November, 2012. Best Poster Honourable Mention
PDF | poster | video | bib

Dey, A., Jarvis, G., Sandor, C., and Reitmayr, G.
Tablet versus Phone: Depth Perception in Handheld Augmented Reality
In Proceedings of IEEE International Symposium on Mixed and Augmented Reality, pages 187--196, Atlanta, USA, November, 2012. Best Paper Award Nominee
PDF | bib

Weir, P., Sandor, C., Swoboda, M., Nguyen, T., Eck, U., Reitmayr, G., and Dey, A.
BurnAR: Feel the Heat
Poster in Proceedings of IEEE International Symposium on Mixed and Augmented Reality, pages 331--332, Atlanta, USA, November, 2012.
PDF | poster | video | bib

Maier, P., Dey, A., Waechter, C., Sandor, C., Toennis, M., and Klinker, G.
An Empiric Evaluation of Confirmation Methods for Optical See-Through Head-Mounted Display Calibration
In the Proceedings of Joint Virtual Reality Conference (JVRC), pages 73--80, Madrid, Spain, October, 2012.
PDF | bib

Sherstyuk, A., Dey, A., Sandor, C., and State, A.
Dynamic Eye Convergence for Head-mounted Displays Improves User Performance in Virtual Environments
In Proceedings of ACM SIGGRAPH Symposium on Interactive 3D Graphics and Games, pages 23--30, California, USA, March, 2012.
PDF | bib

Sherstyuk, A., Dey, A., and Sandor, C.
Head-turning Approach to Eye-tracking in Immersive Virtual Environments
In Proceedings of IEEE Virtual Reality Conference, pages 137--138, California, USA, March, 2012.
PDF | bib

2011
Dey, A., Jarvis, G., Sandor, C., Wibowo, A., and Mattila, V.
An Evaluation of Augmented Reality X-Ray Vision for Outdoor Navigation
In Proceedings of International Conference on Artificial Reality and Telexistence, pages 28--32, Osaka, Japan, November, 2011.
PDF | bib

Cameron, B., Sandor, C., and Mickan, P.
Social Semiotic Analysis of the Design Space of Augmented Reality
Proceedings of IEEE International Symposium on Mixed and Augmented Reality, pages 105--106, Basel, Switzerland, October, 2011.
PDF | bib

Maier, P., Dey, A., Waechter, C., Sandor, C., Tonnis, M., and Klinker, G.
An Empiric Evaluation of Confirmation Methods for Optical See-Through Head-Mounted Display Calibration
Proceedings of IEEE International Symposium on Mixed and Augmented Reality, pages 267--268, Basel, Switzerland, October, 2011.
PDF | bib

2010
Nguyen, T., Sandor, C., and Park, J.
PTAMM-Plus: Refactoring and Extending PTAMM
In Proceedings of International Conference on Artificial Reality and Telexistence, pages 84--88, Adelaide, SA, Australia, December, 2010.
PDF | video | bib

Dey, A., Cunningham, A., and Sandor, C.
Evaluating Depth Perception of Photorealistic Mixed Reality Visualizations for Occluded Objects in Outdoor Environments
In Proceedings of ACM Symposium on Virtual Reality Software and Technology, pages 211--218, Hong Kong, China, November, 2010.
PDF | video | bib

Sandor, C., Cunningham, A., Dey, A., and Mattila, V.
An Augmented Reality X-Ray System Based on Visual Saliency
In Proceedings of IEEE International Symposium on Mixed and Augmented Reality, pages 27--36, Seoul, Korea, October, 2010.
PDF | video | bib

Dey, A., Cunningham, A., and Sandor, C.
Evaluating Depth Perception of Photorealistic Mixed Reality Visualizations for Occluded Objects in Outdoor Environments
Proceedings of the Fifth IEEE Symposium on 3D User Interfaces, pages 127--128, Waltham, MA, USA, March, 2010.
PDF | bib

Eck, U., and Sandor, C.
TINT: Towards a Pure Python Augmented Reality Framework
Proceedings of the Third Workshop on Software Engineering and Architectures for Realtime Interactive Systems, pages 41--46, Waltham, MA, USA, March, 2010.
PDF | bib

Sandor, C., Cunningham, A., Eck, U., Urquhart, D., Jarvis, G., Dey, A., Barbier, S., Marner, M., and Rhee, S.
Egocentric Space-Distorting Visualizations for Rapid Environment Exploration in Mobile Mixed Reality
Proceedings of the IEEE Conference on Virtual Reality, pages 47--50, Waltham, MA, USA, March, 2010.
PDF | video | bib

2009
Marner, M., Thomas, B., and Sandor, C.
Physical-Virtual Tools for Spatial Augmented Reality User Interfaces
Proceedings of IEEE and ACM International Symposium on Mixed and Augmented Reality, pages 205--206, Orlando, FL, USA, October, 2009.
PDF | video | bib

Sandor, C., Cunningham, A., Eck, U., Urquhart, D., Jarvis, G., Dey, A., Barbier, S., Marner, M., and Rhee, S.
Egocentric Space-Distorting Visualizations for Rapid Environment Exploration in Mobile Mixed Reality
Proceedings of IEEE and ACM International Symposium on Mixed and Augmented Reality, pages 211--212, Orlando, FL, USA, October, 2009.
PDF | video | bib

Avery, B., Sandor, C., and Thomas, B.
Improving Spatial Perception for Augmented Reality X-Ray Vision
VR '09: Proceedings of the IEEE Conference on Virtual Reality, pages 79--82, Lafayette, Louisiana, USA, March, 2009.
PDF | video | bib

Porter, S., Marner, M., Eck, U., Sandor, C., and Thomas, B.
Rundle Lantern in Miniature: Simulating Large Scale Non-Planar Displays
International Conference on Advances in Computer Entertainment Technology, pages 311--314, Athens, Greece, 2009.
PDF | bib

Sandor, C.
Accelerating the Mass-Adoption of Augmented Reality through High-Fidelity Prototyping
Proceedings of the 3rd International Workshop on Ubiquitous Virtual Reality, Adelaide, Australia, 2009.
PDF | bib

2008
Heinrich, M., Thomas, B., Mueller, S., and Sandor, C.
An Augmented Reality Weather System
ACE '08: Proceedings of the 2008 International Conference on Advances in Computer Entertainment Technology, pages 170--173, New York, NY, USA, ACM, 2008.
PDF | video | bib

2007
Sandor, C., Kuroki, T., Uchiyama, S., and Yamamoto, H.
Exploring Visuo-Haptic Mixed Reality
Technical Report PRMU2006-199 IEICE, Tokyo, Japan, 2007.
PDF | bib

Sandor, C., Uchiyama, S., and Yamamoto, H.
Visuo-Haptic Systems: Half-Mirrors Considered Harmful
WHC '07: Proceedings of the Second Joint EuroHaptics Conference and Symposium on Haptic Interfaces for Virtual Environment and Teleoperator Systems, pages 292--297, Tsukuba, Japan, IEEE Computer Society, 2007.
PDF | video | bib

2006
Hilliges, O., Sandor, C., and Klinker, G.
Interactive prototyping for ubiquitous augmented reality user interfaces
IUI '06: Proceedings of the 11th international conference on Intelligent user interfaces, pages 285--287, New York, NY, USA, ACM, 2006.
PDF | bib

2005
Sandor, C., Olwal, A., Bell, B., and Feiner, S.
Immersive Mixed-Reality Configuration of Hybrid User Interfaces
Proceedings of IEEE and ACM International Symposium on Mixed and Augmented Reality, pages 110--113, Vienna, Austria, October, 2005.
PDF | video | bib

Tonnis, M., Sandor, C., Lange, C., Bubb, H., and Klinker, G.
Experimental Evaluation of an Augmented Reality Visualization for Directing a Car Driver's Attention
ISMAR '05: Proceedings of the 4th IEEE/ACM International Symposium on Mixed and Augmented Reality, pages 56--59, Vienna, Austria, IEEE Computer Society, 2005.
PDF | presentation | video | bib

2004
Hilliges, O., Sandor, C., and Klinker, G.
A Lightweight Approach for Experimenting with Tangible Interaction Metaphors
Proceedings of the International Workshop on Multi-user and Ubiquitous User Interfaces (MU3I), 2004.
PDF | bib

Kulas, C., Sandor, C., and Klinker, G.
Towards a Development Methodology for Augmented Reality User Interfaces
Proceedings of the International Workshop exploring the Design and Engineering of Mixed Reality Systems - MIXER 2004, Funchal, Madeira, CEUR Workshop Proceedings, 2004.
PDF | presentation | bib

Novak, V., Sandor, C., and Klinker, G.
An AR Workbench for Experimenting with Attentive User Interfaces
ISMAR '04: Proceedings of the 3rd IEEE/ACM International Symposium on Mixed and Augmented Reality, pages 284--285, Washington, DC, USA, IEEE Computer Society, 2004.
PDF | bib

2003
Bauer, M., Hilliges, O., MacWilliams, A., Sandor, C., Wagner, M., Newman, J., Reitmayr, G., Fahmy, T., Klinker, G., Pintaric, T., and Schmalstieg, D.
Integrating Studierstube and DWARF
International Workshop on Software Technology for Augmented Reality Systems (STARS), October, 2003.
PDF | presentation | bib

MacWilliams, A., Sandor, C., Wagner, M., Bauer, M., Klinker, G., and Bruegge, B.
Herding Sheep: Live System Development for Distributed Augmented Reality
Proceedings of the International Symposium on Mixed and Augmented Reality (ISMAR), pages 123--132, October, 2003.
PDF | presentation | video | bib

2002
Bauer, M., Bruegge, B., Klinker, G., MacWilliams, A., Reicher, T., Sandor, C., and Wagner, M.
An Architecture Concept for Ubiqutous Computing Aware Wearable Computers
International Workshop on Smart Appliances and Wearable Computing (IWSAWC), pages 785--790, July, 2002.
PDF | bib

2001
Bauer, M., Bruegge, B., Klinker, G., MacWilliams, A., Reicher, T., Riss, S., Sandor, C., and Wagner, M.
Design of a Component-Based Augmented Reality Framework
Proceedings of the International Symposium on Augmented Reality (ISAR), pages 45--54, October, 2001.
PDF | presentation | bib

Sandor, C., and Reicher, T.
CUIML: A Language for the Generation of Multimodal Human-Computer Interfaces
Proceedings of the European {UIML} conference, 2001.
PDF | presentation | bib
2009
Thomas, B., and Sandor, C.
What Wearable Augmented Reality Can Do for You
Pervasive Computing, IEEE, pages 8-11, April-June, 2009.
PDF | bib

2005
Sandor, C., and Klinker, G.
A Rapid Prototyping Software Infrastructure for User Interfaces in Ubiquitous Augmented Reality
Personal Ubiquitous Computing, pages 169--185, London, UK, Springer-Verlag, 2005.
PDF | bib
2005
Sandor, C.
A Software Toolkit and Authoring Tools for User Interfaces in Ubiquitous Augmented Reality
2005.
PDF | bib
2013
Livingston, M., Dey, A., Sandor, C., and Thomas, B.
Pursuit of X-ray Vision for Augmented Reality
In Tony, L., and Livingston, M., editors, In Human Factors in Augmented Reality Environments, pages 67--107, Springer, USA, 2013.
PDF | bib

2011
Kalkofen, D., Sandor, C., White, S., and Schmalstieg, D.
Augmented Reality Visualization Techniques
In Furht, B., editors, Handbook of Augmented Reality Technologies and Applications, pages 65--99, Springer, 2011.
PDF | bib

2006
Sandor, C., and Klinker, G.
Lessons Learned in Designing Ubiquitous Augmented Reality User Interfaces
In Haller, M., Billinghurst, M., and Thomas, B., editors, Emerging Technologies of Augmented Reality: Interfaces {\&} Design, Idea group inc., 2006.
bib
2009
Sandor, C., and Ogata, H.
Proceedings of the Fifth International Conference on Collaboration Technologies
University of Sydney, 2009.
bib
2010
Sandor, C., Cunningham, A., and Ville-Veikko, M.
Method and Apparatus for an Augmented Reality X-Ray. US Patent application 12/785,170 (Filed 21 May 2010). Available online at google patent search.
May, 2010.
bib

2009
Sandor, C., and Cunningham, A.
Augmented and Virtual Reality Methods and Means. Australian Patent application AU2009905083 (Filed 16 Oct 2009)
October, 2009.
bib

2007
Sandor, C., and Nishimura., N.
Information Processing Method and Apparatus for Specifying Point in Three-Dimensional Space. Japanese patent 2007139373 (Filed 5/2007). US patent application 12/125,773 (Filed 22 May 2008). Available online at google patent search.
May, 2007.
bib

2006
Kuroki, T., Sandor, C., and Uchiyama, S.
Information Processing Method and Apparatus. Japanese patent 2006118446 (Filed 5/2006).
May, 2006.
bib

Sandor, C., Kuroki, T., and Uchiyama, S.
Information processing method and device for presenting haptics received from a virtual object. Japanese patent 2006117732 (Filed 4/2006). Patent in China, Europe, and US 8,378,997 (Filed 19 April 2007). Available online at google patent search.
April, 2006.
bib

Sandor, C., Kuroki, T., and Uchiyama, S.
Information Processing Method and Apparatus. Japanese patent application P2007-293412A (Filed 4/2006)
April, 2006.
bib
2011
Swoboda, M., Nguyen, T., Eck, U., Reitmayr, G., Hauswiesner, S., Ranftl, R., and Sandor, C.
BurnAR: Feel the Heat
Demo at IEEE International Symposium on Mixed and Augmented Reality, Basel, Switzerland, October., 2011. Best Demo Award
PDF | bib

2008
Avery, B., Thomas, B., Piekarski, W., and Sandor, C.
See-Through Vision for Mobile Outdoor Augmented Reality
Demo at IEEE and ACM International Symposium on Mixed and Augmented Reality, Cambridge, England, September, 2008.
PDF | video | bib

Heinrich, M., Thomas, B., Mueller, S., and Sandor, C.
An Augmented Reality Weather System
Demo at IEEE and ACM International Symposium on Mixed and Augmented Reality, Cambridge, England, September, 2008.
PDF | video | bib

Hoang, T., Thomas, B., and Sandor, C.
An Augmented Reality In-Situ Menu for Selecting 3D Models
Demo at International Symposium on Mixed and Augmented Reality, Cambridge, England, September, 2008.
PDF | video | bib

2005
Georgel, P., Sandor, C., Meyer, M., Whitaker, R., and Klinker, G.
A Novel Approach to Automatic Layout for User Interface Elements in Augmented Reality
Demo at International Symposium on Mixed and Augmented Reality (ISMAR) 2005, Vienna, Austria, Oct 5-8, 2005, 2005.
PDF | bib

2004
Sandor, C., Bell, B., Olwal, A., Temiyabutr, N., and Feiner, S.
Visual End User Configuration of Hybrid User Interfaces
Demo at International Symposium on Mixed and Augmented Reality (ISMAR) 2004, Arlington, VA, USA, Nov 2-4, 2004, November, 2004.
PDF | bib

Sandor, C., Bell, B., Olwal, A., Temiyabutr, S., and Feiner, S.
Visual End User Configuration of Hybrid User Interfaces
Demo at ACM SIGMM Workshop on Effective Telepresence, New York, NY, USA, October 2004, 2004.
PDF | bib

2002
Sandor, C., Wagner, M., MacWilliams, A., Bauer, M., and Klinker, G.
SHEEP: The Shared Environment Entertainment Pasture
Demo at International Symposium on Mixed and Augmented Reality (ISMAR) 2002, Darmstadt, Germany, 2002, 2002.
PDF | bib