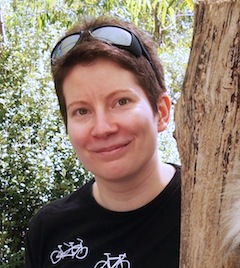 Biography
Liisa is preparing her doctoral thesis about designing mobile map services from the viewpoint of Spatial Cognition in Navigation. The main research question in her thesis, which is positioned in the field of Human-Technology Interaction, is: How to support the user's orientation with mobile maps.
She is a PhD student at the University of Jyväskylä, Finland. From February to March 2013, Liisa is visiting Magic Vision Lab to strengthen her thesis by examining the influences of Augmented Reality on spatial cognition.
Liisa graduated as a master of economic science in 2008 from the field of information systems science, specialized in user-friendly information technology.
Publications
Copyright Disclaimer: This material is presented to ensure timely dissemination of scholarly and technical work. Copyright and all rights therein are retained by authors or by other copyright holders. All persons copying this information are expected to adhere to the terms and constraints invoked by each authors copyright. In most cases, these works may not be reposted without the explicit permission of the copyright holder.
The colors next to the publications denote the lab in which they were created:
| | |
| --- | --- |
| | Magic Vision Lab. University of South Australia. Adelaide, Australia. |
| | Wearable Computer Laboratory. University of South Australia. Adelaide, Australia. |
| | Canon's Leading-Edge Technology Research Headquarters. Human Machine Perception Laboratory. Tokyo, Japan. |
| | Fachgebiet Augmented Reality. Munich University of Technology. Munich, Germany. |
| | Fachgebiet Computer Aided Medical Procedures. Munich University of Technology. Munich, Germany. |
2013
Kuparinen, L., Swan, E., Rapson, S., and Sandor, C.
Depth Perception in Tablet-Based Augmented Reality at Medium- and Far-Field Distances
Poster in Proceedings of the ACM Symposium on Applied Perception, page 121, Dublin, Ireland, August, 2013.
PDF | bib