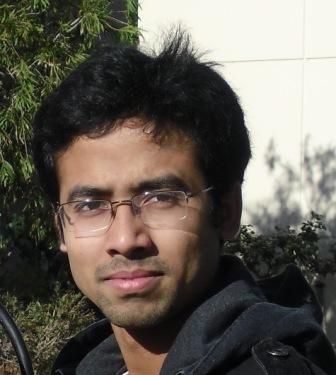 Biography
Arindam started as a PhD student at Wearable Computer Laboratory in March 2009, currently he is continuing his research at Magic Vision Lab since January 2010. He is being supervised by Dr Christian Sandor and Prof. Bruce H. Thomas.
His primary research interests are Mobile AR, Human Computer Interaction in AR Environments, and User Evaluations. In his PhD, he is focusing on the Perceptual Characteristics of Visualizations for Occluded Objects in Handheld Augmented Reality.
He was a research intern at the Munich University of Technology (TUM), Germany from December 2010 to March 2011, where he has worked on three different projects, including both 2D and 3D User Interfaces, and Augmented Reality. For more details, please visit his webpage at TUM.
The courses he taught at the UniSA include Database M, Project Management for Software Engineering, Computer Graphics, Inter Enterprise Computing, and Web and Database Development. He is both a member of IEEE and ACM.
Conference Services:
He has completed his Bachelor of Technology degree in Computer Science and Engineering from West Bengal University of Technology, Kolkata, India in 2006. Beside research he has keen interest on playing Cricket, photography, listening to music, and trekking.
He has submitted his PhD on March 2013. View his complete resume here (last updated:4 February 2013).
View Arindam's profile on LinkedIn
Publications
Copyright Disclaimer: This material is presented to ensure timely dissemination of scholarly and technical work. Copyright and all rights therein are retained by authors or by other copyright holders. All persons copying this information are expected to adhere to the terms and constraints invoked by each authors copyright. In most cases, these works may not be reposted without the explicit permission of the copyright holder.
The colors next to the publications denote the lab in which they were created:
| | |
| --- | --- |
| | Magic Vision Lab. University of South Australia. Adelaide, Australia. |
| | Wearable Computer Laboratory. University of South Australia. Adelaide, Australia. |
| | Canon's Leading-Edge Technology Research Headquarters. Human Machine Perception Laboratory. Tokyo, Japan. |
| | Fachgebiet Augmented Reality. Munich University of Technology. Munich, Germany. |
| | Fachgebiet Computer Aided Medical Procedures. Munich University of Technology. Munich, Germany. |
2013
Weir, P., Sandor, C., Swoboda, M., Nguyen, T., Eck, U., Reitmayr, G., and Dey, A.
BurnAR: Involuntary Heat Sensations in Augmented Reality
In Proceedings of the IEEE Virtual Reality Conference, pages 43--46, Orlando, FL, USA, March, 2013.
PDF | video | bib

2012
Dey, A., Jarvis, G., Sandor, C., and Reitmayr, G.
Tablet versus Phone: Depth Perception in Handheld Augmented Reality
In Proceedings of IEEE International Symposium on Mixed and Augmented Reality, pages 187--196, Atlanta, USA, November, 2012. Best Paper Award Nominee
PDF | bib

Weir, P., Sandor, C., Swoboda, M., Nguyen, T., Eck, U., Reitmayr, G., and Dey, A.
BurnAR: Feel the Heat
Poster in Proceedings of IEEE International Symposium on Mixed and Augmented Reality, pages 331--332, Atlanta, USA, November, 2012.
PDF | poster | video | bib

Maier, P., Dey, A., Waechter, C., Sandor, C., Toennis, M., and Klinker, G.
An Empiric Evaluation of Confirmation Methods for Optical See-Through Head-Mounted Display Calibration
In the Proceedings of Joint Virtual Reality Conference (JVRC), pages 73--80, Madrid, Spain, October, 2012.
PDF | bib

Benzina, A., Dey, A., Tonnis, M., and Klinker, G.
Empirical Evaluation of Mapping Functions for Navigation in Virtual Reality using Phones with Integrated Sensors
In the Proceedings of 10th Asia Pacific Conference on Computer Human Interaction, pages 149--158, Matsue, Japan, August, 2012.
PDF | bib

Sherstyuk, A., Dey, A., Sandor, C., and State, A.
Dynamic Eye Convergence for Head-mounted Displays Improves User Performance in Virtual Environments
In Proceedings of ACM SIGGRAPH Symposium on Interactive 3D Graphics and Games, pages 23--30, California, USA, March, 2012.
PDF | bib

Sherstyuk, A., Dey, A., and Sandor, C.
Head-turning Approach to Eye-tracking in Immersive Virtual Environments
In Proceedings of IEEE Virtual Reality Conference, pages 137--138, California, USA, March, 2012.
PDF | bib

2011
Dey, A., Jarvis, G., Sandor, C., Wibowo, A., and Mattila, V.
An Evaluation of Augmented Reality X-Ray Vision for Outdoor Navigation
In Proceedings of International Conference on Artificial Reality and Telexistence, pages 28--32, Osaka, Japan, November, 2011.
PDF | bib

Maier, P., Dey, A., Waechter, C., Sandor, C., Tonnis, M., and Klinker, G.
An Empiric Evaluation of Confirmation Methods for Optical See-Through Head-Mounted Display Calibration
Proceedings of IEEE International Symposium on Mixed and Augmented Reality, pages 267--268, Basel, Switzerland, October, 2011.
PDF | bib

2010
Dey, A., Cunningham, A., and Sandor, C.
Evaluating Depth Perception of Photorealistic Mixed Reality Visualizations for Occluded Objects in Outdoor Environments
In Proceedings of ACM Symposium on Virtual Reality Software and Technology, pages 211--218, Hong Kong, China, November, 2010.
PDF | video | bib

Sandor, C., Cunningham, A., Dey, A., and Mattila, V.
An Augmented Reality X-Ray System Based on Visual Saliency
In Proceedings of IEEE International Symposium on Mixed and Augmented Reality, pages 27--36, Seoul, Korea, October, 2010.
PDF | video | bib

Dey, A., Cunningham, A., and Sandor, C.
Evaluating Depth Perception of Photorealistic Mixed Reality Visualizations for Occluded Objects in Outdoor Environments
Proceedings of the Fifth IEEE Symposium on 3D User Interfaces, pages 127--128, Waltham, MA, USA, March, 2010.
PDF | bib

Sandor, C., Cunningham, A., Eck, U., Urquhart, D., Jarvis, G., Dey, A., Barbier, S., Marner, M., and Rhee, S.
Egocentric Space-Distorting Visualizations for Rapid Environment Exploration in Mobile Mixed Reality
Proceedings of the IEEE Conference on Virtual Reality, pages 47--50, Waltham, MA, USA, March, 2010.
PDF | video | bib

2009
Sandor, C., Cunningham, A., Eck, U., Urquhart, D., Jarvis, G., Dey, A., Barbier, S., Marner, M., and Rhee, S.
Egocentric Space-Distorting Visualizations for Rapid Environment Exploration in Mobile Mixed Reality
Proceedings of IEEE and ACM International Symposium on Mixed and Augmented Reality, pages 211--212, Orlando, FL, USA, October, 2009.
PDF | video | bib
2013
Livingston, M., Dey, A., Sandor, C., and Thomas, B.
Pursuit of X-ray Vision for Augmented Reality
In Tony, L., and Livingston, M., editors, In Human Factors in Augmented Reality Environments, pages 67--107, Springer, USA, 2013.
PDF | bib